Pet Insurance for Cats – Is It Necessary? that is a question that every pet parent asks themselves and whether or not if we need insurance for "just-in-case" emergencies!
So, I got to thinking about whether pet insurance is beneficial to cat parent's or not moreover, I've talked to pet parents and did some research and it has led me to consider purchasing cat insurance when I get my new kitten.
*This post may contain affiliate links, which means I will make a commission at no extra cost to you should you click through and make a purchase
Pet Insurance for Cats – Is It Necessary? – Cat's 9 Lives + One!
Given the rising costs of vet visits, surgeries and medications, it would be wise to purchase cat insurance for your furry child. What do you think and have you ever considered this?
Did you know that this is available to pet parents? I just recently found out about this and it made me very curious about the whole matter!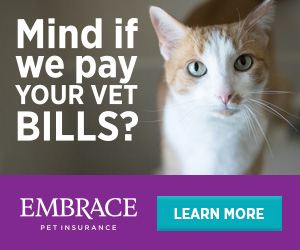 I wanted to find out more!
Pet Insurance for Cats – Is It Necessary? – How to Choose
What I found out is interesting and I would like to share with you what to look for when purchasing your cat (pet) insurance policy.
Keep in mind that cat health insurance should be easy to understand and use. No hidden agenda or fine print to try to "catch" before they catch you!
I see that some insurance companies will pay 90% of your vet bill. Isn't that wonderful? One of my friends said that she had purchased insurance for her cat and when her cat got hurt, they did what they said they would pay!
Folks, it was 90% of her bill!
When my oldest daughter took her senior cat (14 years old) to the vet for surgery, it cost her well over $1200!! And the medicine is $50.00 a month!
Now, if she were to get pet insurance, imagine the savings for just that one visit, let alone the monthly costs of her meds!
We never know what will happen from one day to the next. You and I both know that accidents do happen and wouldn't it be better to be prepared by having some help with the bill?
Pet Insurance for Cats – Is It Necessary? – What's Right for My Cat?
Accredited with the BBB (Better Business Bureau) Scroll all the way down to the end of the site and there should be a link for you to check out their rating with the BBB. If not, just search Google for the BBB website and you can check it that way!

Member of the NAPHIA – North American Pet Health Insurance Association – I'm not sure if this is required. It has a lot of information on the different insurance companies and pet health professions that are in the United States and Canada.
Here is a quote from their website "The North American Pet Health Insurance Association is a freestanding body of reputable and experienced pet health insurance companies and pet health professionals operating in the USA and Canada."
Comprehensive illness and accident coverage – Including Vet exam fees!
Unlimited Lifetime + No claims caps – This would be awesome for cat parents with more than one feline!
Customizable Annual Limits & Reimbursement percentages – Low deductibles from $250 with unlimited claims. Some will offer plans as low as $1.50 per day, which would be perfect for those cat parents with more than one furry child!
Pet Insurance for Cats – Is It Necessary? – Compare Cat Insurance! Purrfect!
An optional wellness plan that covers routine veterinary grooming (awesome!) and training costs!
Ask your veterinarian or vet clinic if they offer plans that provide help for low-income families by offering ways to prepay or a sliding scale payment option for basic pet health care needs.
You will find that some companies will cover: Whole pet and wellness spay/neuter for your pets!

When I saw this, I was happy! To spay or neuter your pet is very expensive. Did you know that you can go to Animal Control and they will give you a voucher to help cut the costs of the surgery!
Awesome, right?! All you have to do is call and ask for one.
Pet Insurance for Cats – Is It Necessary?  – Senior Cats?
Hereditary, Congenital & Chronic conditions are written into your policy. Purebreds tend to have specific illnesses that are associated with their breed. Not all of them, but some breeds carry different genes than your ordinary house cat!
Some insurance companies will give you specific care for your senior cat! You won't be penalized for the age of your cat.
Avoid Costly Pet Bills – Your Furry Child will Thank You!
Cat insurance provides peace-of-mind when your cat needs care. If you take your cat to the vet for yearly checkups then pet insurance would be great for you!
Ask as many questions as you can think of, and get several quotes before you sign the policy.
Know what you are getting and buying. Ask for a paid monthly plan or yearly. Whatever works best for you!
From Kittens to Senior cats to Purebreds, sooner or later they will use up their 9 Lives and will have to add one or two more… you can help them do that and you can help your budget with the cost.
It doesn't hurt to check out your options, and then make wise decisions on your findings!
Again, I do not endorse any one particular brand. Just a few insights into the benefits of buying Cat Insurance for your furry child!
 Love your furry child all the days of their lives…. it will help us to continue feeding your cat's meow…
Please leave a comment if you like this post. If there is anything that I can help you with, please let me know and I will do my best to help you!
All my best to you and wishing you a lovely day!
Meowz to you!
Donna Rayne
Copyright © 2019 Donna Rayne's Blog, All rights reserved.
Founder of mrsparrowshealthycat.com
Writer and member of the partnership program at Quora.com